STAGE/LIVE
VIDEO/FILM
MAC SOFTWARE
EXPERIENCED CREWS
REMOTE/DISTANCE PROMPTING
Magic Teleprompting, Inc.
Professional Prompting Services
Magic Teleprompting is Northern California's original full service prompting company.
Whether you're looking to prompt a short video script for an executive, or an entire conference over the course of several days, we have the gear and the crew to help your production run smoothly.

We're also the creators of MagicScroll, the first teleprompting software for Macintosh. With features culled from our own prompting needs and experience, we've created software that is powerful, yet simple to use.
Why we're the best
While "best" is always subjective, we believe several factors set us apart from the competition.
Ready to explore solutions to your
prompting needs?
Check out our rental/service rates below.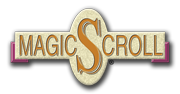 Powerful, easy to use, Macintosh prompting for professionals.
MagicScroll Features
Here's a short list of our favorites!
View all of MagicScroll's Features, pricing and details.
---
Top